6-8th Grade Summer Reading (Part 2)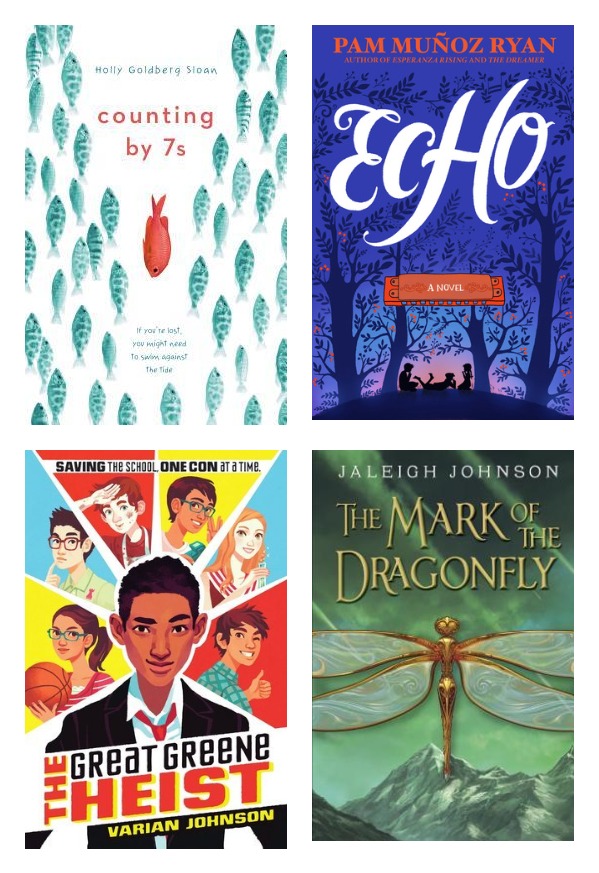 In the tradition of Out of My Mind, Wonder, and Mockingbird, this is an intensely moving middle grade novel about being an outsider, coping with loss, and discovering the true meaning of family.

Willow Chance is a twelve-year-old genius, obsessed with nature and diagnosing medical conditions, who finds it comforting to count by 7s. It has never been easy for her to connect with anyone other than her adoptive parents, but that hasn't kept her from leading a quietly happy life . . . until now.

Suddenly Willow's world is tragically changed when her parents both die in a car crash, leaving her alone in a baffling world. The triumph of this book is that it is not a tragedy. This extraordinarily odd, but extraordinarily endearing, girl manages to push through her grief. Her journey to find a fascinatingly diverse and fully believable surrogate family is a joy and a revelation to read.
Music, magic, and a real-life miracle meld in this genre-defying masterpiece from storytelling maestro Pam Muñoz Ryan.

Lost and alone in a forbidden forest, Otto meets three mysterious sisters and suddenly finds himself entwined in a puzzling quest involving a prophecy, a promise, and a harmonica.

Decades later, Friedrich in Germany, Mike in Pennsylvania, and Ivy in California each, in turn, become interwoven when the very same harmonica lands in their lives. All the children face daunting challenges: rescuing a father, protecting a brother, holding a family together. And ultimately, pulled by the invisible thread of destiny, their suspenseful solo stories converge in an orchestral crescendo.

Richly imagined and masterfully crafted, ECHO pushes the boundaries of genre and form, and shows us what is possible in how we tell stories. The result is an impassioned, uplifting, and virtuosic tour de force that will resound in your heart long after the last note has been struck.
Jackson Greene swears he's given up scheming. Then school bully Keith Sinclair announces he's running for Student Council president, against Jackson's former friend Gaby de la Cruz. Gaby wants Jackson to stay out of it — but he knows Keith has "connections" to the principal, which could win him the presidency no matter the vote count.

So Jackson assembles a crack team: Hashemi Larijani, tech genius. Victor Cho, bankroll. Megan Feldman, science goddess. Charlie de la Cruz, reporter. Together they devise a plan that will take down Keith, win Gaby's respect, and make sure the election is done right. If they can pull it off, it will be remembered as the school's greatest con ever — one worthy of the name THE GREAT GREENE HEIST.
For fans of The City of Ember and The School of Good and Evil, The Mark of the Dragonfly is a fast-paced adventure story about a mysterious girl and a fearless boy, set in a magical world that is both exciting and dangerous.
Piper has never seen the Mark of the Dragonfly until she finds the girl amid the wreckage of a caravan in the Meteor Fields.
The girl doesn't remember a thing about her life, but the intricate tattoo on her arm is proof that she's from the Dragonfly Territories and that she's protected by the king. Which means a reward for Piper if she can get the girl home.
The one sure way to the Territories is the 401, a great old beauty of a train. But a ticket costs more coin than Piper could make in a year. And stowing away is a difficult prospect—everyone knows that getting past the peculiar green-eyed boy who stands guard is nearly impossible.
Life for Piper just turned dangerous. A little bit magical. And very exciting, if she can manage to survive the journey.
---
Book Description By
Barnes&Noble.com

See Our 6th Grade Summer Reading Part 1 Here